CV Samples For Freshers
February 8, 2023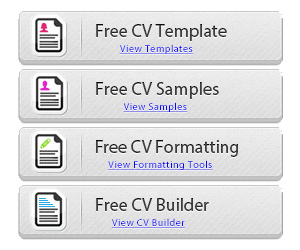 If you landed on this page, it's probably cause you are a fresher and you are looking to create your CV.
In this article, you will find 3 examples of resume for 3 different situations, all suitable for the job hunting beginner you are.
But first, what is a fresher?
A fresher is someone just out of school, with or without any work experience. So, if you are either ones of these, you've come to the right place cause we are covering both.
Situations covered:
High School grade
Post High School graduate
No work experience
So we think that we are covering here most fresher's situations. Most likely, you will find the help and inspiration you are looking for in this page.
So let's get started right away.
High School Grade CV
Lots of young people in high school want to get a part time job to have some money to spend on their own.
But what do you add in a resume when you mostly never work? Don't worry, you can add plenty information to impress any recruiter.
We created this CV template from a real case scenario in the real life. Yes. This template was actually used by my daughter to get a job and it worked wonderfully. She made just a few applications and found a job in only a couple weeks.
Begin your CV with your presonal informations, your name, phone number and email so you can get joined easily.
It's a good idea to add and Objective line. So the recruiter will know exactly what you are looking for in a glimpse.
In this example, we added a Work Experience section, which isn't really one, but it will draw the recruiter's attention to it. You could also rename that section "Volunteer Experience" or something like that. But we like to name it Work Experience even though it's not really the case. It's a good way to have a work experience section even though you never had a real job.
You could also simply remove this section if you never volunteer or worked at all. In this case, give more information about your education.
Adding a whole lot of skills you have is a great idea. You can also modify the skills section depending on the job you are applying on.
So now, take a look at our example and you can download our original Word file simply by clicking on the following Download button.
Post High School Graduate
Our second sample is for a fresher just out of college or university.
We added a Profile section here. It's like a resume of a motivation letter. It's a great way to add a personnalized touch to a resume. Explain here in a few sentences what are your career goals.
You can also download our original MS Word file simply by clicking on the download button.
No Work Experience
In our last example, we decided to create a template for people that have absolutely no professional experience.
Lots of people don't know how to write their resume if they don't have such experience. But believe me, you can still create a nice looking and very relevant CV.
Even though you never worked, if you think enough you'll find some experience to add. Like if you volunteered or made an internship in some company. They are just as good as real job experiences.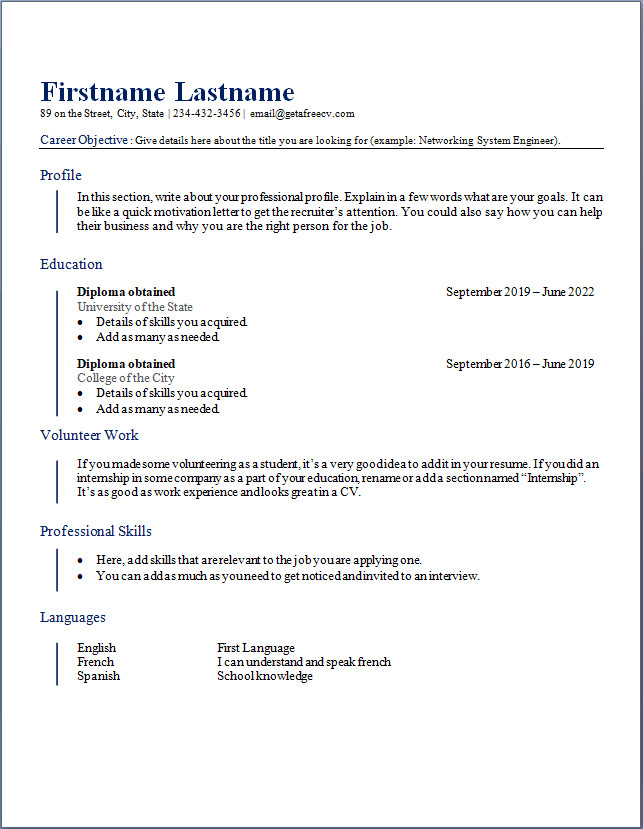 Tips and tricks
Don't worry if you think you don't have much to add to your resume. Sometimes, the less is better. And it's not a big deal if your resume is kinda short. Just add some spacing between section so it looks clean and thought out.
Information is King
The most important here is who you are, what you are looking for, how you can help and how to join you. That's it. Make your CV, print it in copies and go at business you want to work for.
Present yourself and give them your proudly self made document.
More tips
We've also jam packed our templates with relevant tips and tricks into each sections. Telling you what you can add to your document to make it a great CV for your job applications.
If you have questions and/or need more details, please, feel free to use our comment section below or our Facebook Page. We'll be very happy to hear from you.
Now… good luck getting that job of your dreams.