Fifty Shades Of Red CV
February 21, 2023
An original CV with its surprising color code that will allow the candidate to stand out in a pile of CVs with its shades of red.
The graphic design surprises by skillfully revisiting the classic linear structure of the CV.
The header draws attention by its red background while remaining sober in the content.
Bottom, skills are valued by beautifully colored histograms. The rectangle bottom gives movement and consistency to the whole.
Recruiters are surprised by this classic and offbeat presentation, leaves them to want to know more.
Presentation
Someone on one of our Facebook posts told us this:
" Sensible recruiters should look at the knowledge of a person not decoration of Cv. "
This is our answer:
" You know how important first impression is? Do you go to an interview with old clothes, or do you prepare with your best new ones and how do you present yourself? Knowledge is important of course, but presentation is AS MUCH important. A perfect CV design gets you the attention. "
50 Shades of red CV
To download the file in MS Word format, simply click on the download button right after the next image.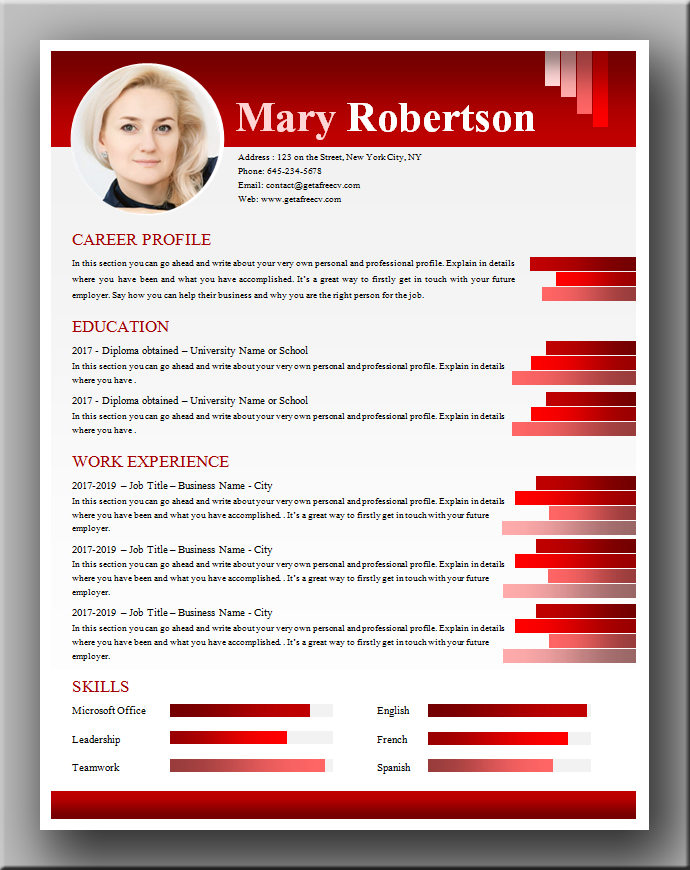 Cover letter
We created a matching cover letter for this CV template, you can get it simply by clicking on the download button right after the next image.
Font
The font used in these templates is Kokila. You can get it for free here: https://docs.microsoft.com/en-us/typography/font-list/kokila.
Credits
Woman picture credit link: http://mrg.bz/8dyRNi