Resume Examples and Samples for Students
May 31, 2023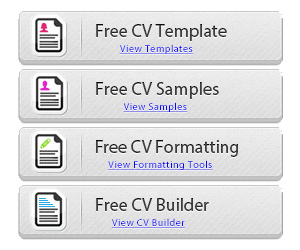 Being a student and create a resume may seem awkward… but in reality, it's simpler than you think.
Creating your own resume is not easy when starting from scratch. What are the first words to use? Where do I put them, in the middle or on the left side? What font should I use?
Wouldn't it be simpler if I could use a template of some sort to start with? Of course, YES. And we created something to help you here.
In this guide, we'll provide you with some tips, but more than this… Examples and free sample templates that you can download right away and use as inspiration.
So let's get started!
Student resume example
First Lastname
123 on the Street
City, State, Postal Code
819-123-3456
email@getafreecv.com
English – French – Spanish
CAREER OBJECTIVE
Describe here in a few lines what you hope for your future and what you would like to occupy as a long-term position. Employers are sensitive to what information you can give because they want to find the people who really want it.
PROFESSIONAL SKILLS
 Ponctual
 Good mood
 Happy
 Responsible
 Cultivated
 Great communicator
EDUCATION
MSc Global Business Management 2022
University of Ottawa
Thesis : "Global Mindset is a Must for Organizations and Leaders"
BSc International Business 2020
University of Ottawa
• Global Economics and Governance
• Risk Management and Communication
AWARDS AND HONORS
• 2020, Editorial person of the year
• 2019, Courses representative of the year, University of Ottawa
WORK EXPERIENCE
Part Time Editorial Intern 2019-2021
The Resident Journal, Ottawa
 Assisted in design, development and preparation of papers.
 Helped with answering editorial emails.
 General and editorial support to the freelancers.
KEY SKILLS
 Editorial writing, Research leader, Editing, Critics
References available upon request
This is a text example of a perfectly written resume. But it lacks format.
So now, let's format this text in a great looking document.
Resume Sample for University Students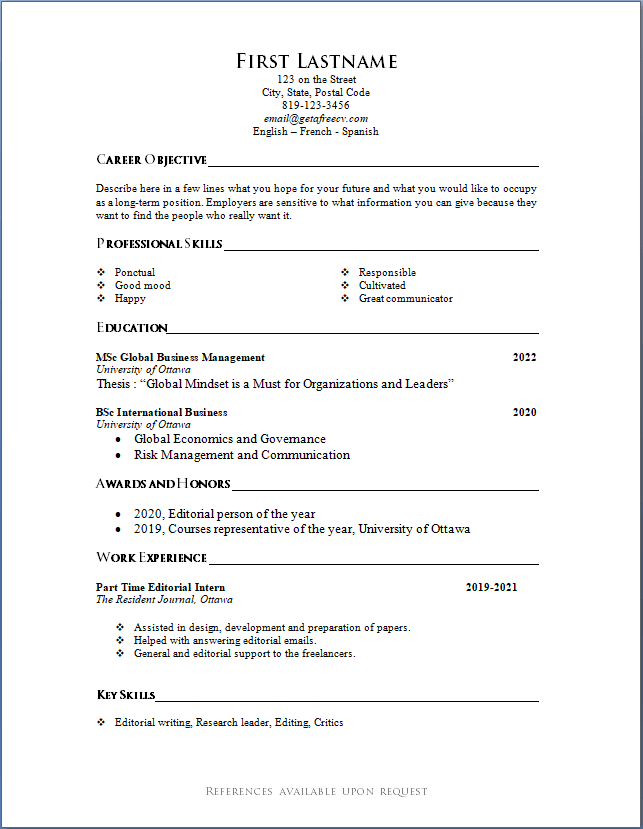 Simply click on that download button to get this resume sample in Word format. Then you can go ahead and modify this file to reflect your very own professional situation.
So, how do you think that looks?
No work experience?
If you don't have any work experience, don't worry… you can simply rename that section for anything else, like Internship or Volunteering.
You could also simply remove completely this section and add more to your Education block. Try to make it, at the very least, a nice looking full page of useful informations.
No Word Experience CV Sample
Photo Finish
So… you'd like to add your face picture to your resume template cause you think it may help you get that job? No problem.
Here is a sample including a profile picture that you could use for all you job application needs.
Design Resume Sample for Students
Let's go a step further in our creation and make a great design one.
Check it out, tell us what you think about this one.
As you can see, there are loads of ways to present ourselves while making job applications. Everything depends on your objective.
Some job applications requires a very simple format when others may require full design to impress the recruiters.
This said, always remember that information is KING when applying on a job and sometimes, design can distract the recruiter.
We often suggest people to stay simple. But you still have the choice.
Good luck finding that job of your dreams.