Downloadable and editable free cv templates
September 20, 2022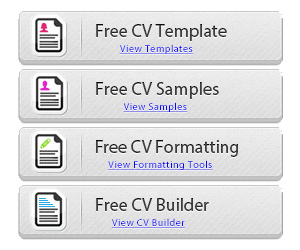 This free cv templates page was created on February 18, 2014. Updated September 20, 2022.
In this article, we share the love and give links of websites that are offering downloadable resume templates in the Word format.
This is a great way to give back to the internet because they gave us so much inspiration.
We try to keep these links functional and useful. If we find out the templates aren't available for download anymore, we remove the link.
Are you looking for a cv template that is easily editable so that you can make it your very own version? Do you need help at writing a great document that will get you noticed and get out of the lot?
If you answered yes to these questions, you have come to the right place.
Here, at Get A Free CV dot com, all the resume templates that we share are easily downloadable and editable.
All you have to do is open them in you favorite text formatting software and edit them. You can use either Microsoft's Word or the free solution in OpenOffice word.
You can save yourself multiple hours of work and headaches by using one of the templates that we are offering you with absolutely no charge.
We think it's great to make promotion of the work of others because they give something different than we have to offer, which makes us the best at giving you what's really free and easy to use.
We've been updating this page, searching the web for easy and free resume templates in the Word format. We removed links cause they we removing the files and always redirecting people to a resume builder that you end up paying. We found an article at BeamJobs with 10 resume templates in the Word format that you can download right away. That's exactly what we are looking for. Check'em out!
We found a nice and classic CV template on this page at The Balance Careers. The file is easy and free to download. You don't need to register. Simply click on the "Download the template" link.
There are litteraly a bunch of free templates at Resume Genius. It's great cause you get to download a zip file with all the different color schemes of every templates available on this page. We think you should check it out!
We found a collection of 18 CV template in a classic design at JobScan. They are all free and easy to download. You just have to click on the green download buttons and you get the files directly. No registering required and you don't have to provide personnal informations. They are easy to modify and use. So maybe you should take a look there on their website.
We are always updating this post with the best links to FREE resume templates in Word format. It's so difficult to find easily accessible files these days…. most websites will make pages and posts stating they offer free templates, but most of the time you have to register, give personnal data or pay to get these. We found a great selection of files, downloadable in a single click on Resume Viking. So feel free to visit them and try a few templates, you might find the file you are looking for.
We found two classic cv templates in the Word .DOCX format on Vertex42. When you click on the download button, you can simply skip the survey and you'll be able to get the files directly. Check'em out!
On this nice little website, you can find 6 Word format .DOCX templates that are downloadable directly on the homepage. They actually look pretty nice and we think they could be the templates that you are looking for. The color schemes used are pretty much universal and the page formats are very nice. Maybe you should take a look at this page if you are on the hunt for the resume template that suits you.
First, on Dayjob, they will offer you to buy some of their premium templates. But scroll down and then, you'll see that they are offering 12 original .doc templates that you can use for free.
There, they have a great selection of original CVs that you can download for free and they are all easily editable using Microsoft Powerpoint. Go see what they have to offer, maybe you'll find a template that suits your needs.
Yet another source of free editable curriculum vitae templates. Ok, they might look ordinary and old school, but still… it's free! Don't hesitate to download them to give a try, maybe you'll find the one you are looking for!
Ok, this one is easy as 1-2-3. Office.com. Do you know that Microsoft is offering a wide variety of templates for all your needs in your everyday life? There is a ton of them… and especially, they offer resume templates. They look great and professionnal, maybe you should use one of theirs, don't you think so?
A unique concept that will ease your writing of a great looking resume. On Blank CV dot com, you can find CV files from our very own collection that are in PDF format. You simply open these files with Adobe Reader and modify them directly there. Check it out, this new website is made by the creator of GetAFreeCV.com and offers a variety of files in the PDF Form format.
150+ Free Resume Templates for Word at Freesumes.com
UPDATE: We almost deleted this link cause seems like they changed their website for some templates. There are templates that you can still download directly for free. But seems like they are changing this to a registering download, which we don't like. So we'll monitor their website and if all their templates comes to ask you to register, we'll remove thour link to Freesumes from this page.
Freesumes has been around for a while and their website shows up the wide collection of CV templates. They're not the easiest to get to the download page, but it works. When you download a template, you'll get a .ZIP file that includes the resume template in Word .DOC format, but also a documentation file that gives you details about the template… like where you can get the fonts for the file and other stuff. We like this website, the templates are gorgeous, modern and well presented. If you haven't visited them already, give them a look.
So now, as a conclusion, we offer you the widest collection of cv templates that you can find on the web. We even give you links to competitors websites to download and try their files.
This said, here on getafreecv.com, we are offering you hundreds of free editable curriculum vitae templates that you can use for all your personal and professional needs. So take your time and take a look at our template collection. Maybe you'll find the one of your dream to get that dream job!
Then, have a great new job! 🙂