Manager Export & Import
October 23, 2017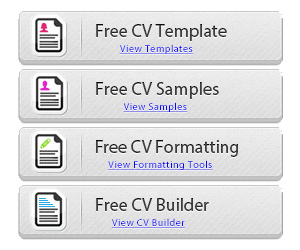 Yes, here's another CV redone by us. Tell us what you think about it in the comments.
Aamir contacted us to have his CV redone and we did it. You can take a look at all resulting details here.
He chose our template #1003 to make this one and you can download our original template by visiting this page: click here.
So, here we go, take a look at the resulting CV on the recruter's desk:
Closer look at this document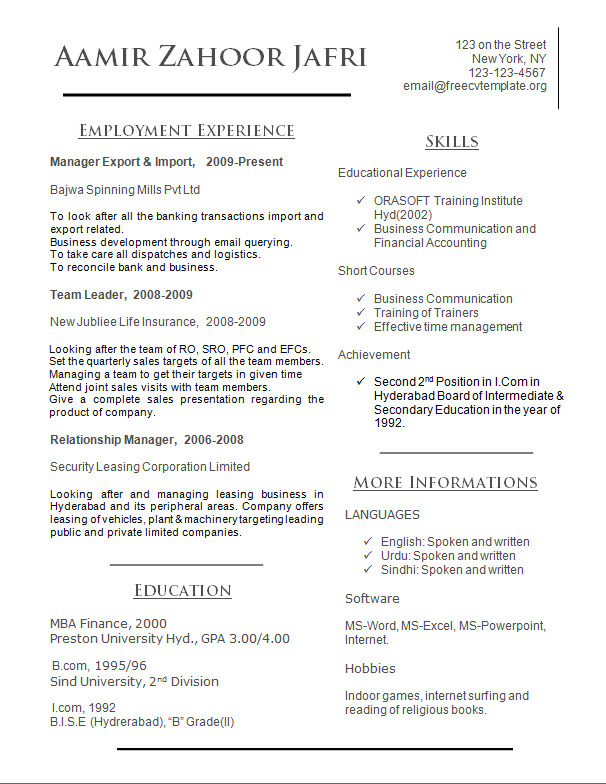 Here is the original CV
Biodata
AAMIR ZAHOOR JAFRI
Tele: Mobile:
E- Mail:
Profile

An experienced professional with excellent analytical skills having command over Corporate and Consumer Leasing and banking issues and procedures, supported by exceptional analytical, leadership and marketing skills. Highly organized, motivated capable of meeting tight deadlines by employing the available resources for the desired results. Striving for regular improvements at professional as well as personal level.

Objective

Seeking a challenging position in the reputable organization where my capabilities and experience can be utilized in an effective and efficient manner. Deploying all my expertise towards adding value to the output of my department, consistent with the organization basic objective.

Work Experience

Bajwa Spinning Mills Pvt Ltd (December 2009 to to-date)

As a "Manager Export & Import"

· To look after all the banking transactions import and export related

· Business development through email querying.

· To take care all dispatches and logistics.

· To reconcile bank and business.

New Jubliee Life Insurance (June 2008 to july 2009)

As a "Team Leader"

· Looking after the team of RO, SRO, PFC and EFCs.

· Set the quarterly sales targets of all the team members.

· Managing a team to get their targets in given time

· Attend joint sales visits with team members.

· Give a complete sales presentation regarding the product of company.

Security Leasing Corporation Limited (from Oct 2006 to June 2008)

As a "Relationship Manager"

· Looking after and managing leasing business in Hyderabad and its peripheral areas. Company offers leasing of vehicles, plant & machinery targeting leading public and private limited companies.

· Managing a team of marketing and back-office staff and resolving their problems.

· Site visits, meeting prospective clients, assessing their credibility and market standing through market references.

· Maintaining acceptable return through guidelines set by the management.

· Credit evaluation, preparing credit appraisals.

· Managing recovery of lease rentals, arranging insurance policies, negotiating with vendors/suppliers of assets.

· Maintenance and partial administration of branch.

Union Leasing Limited (from July 2005 to August 2006)

As a "Branch Manager".

· Identified and promoted new segments of markets.

· Created long lasting relationships with clients and dealers.

· Achieved the annual targets set by Head Office.

· Analyzed the credit worthiness of client.

· Managed a team of ten people and get result from them.

· Looked after repossession issues.

· Did the periodic visits to the client and dealers.

· Managed the branch operations efficiently

· Generated business of Rs75 million.

Crescent Leasing Corporation Ltd. (from Sep 2002 to May 2005)

As a "Branch Manager".

· Promoted new markets of Corporate and Consumer lease.

· Analyzed the credit worthiness of client.

· Forecasted quarterly, semi annual and annual revenues.

· Participated in Branch Budget meetings held by head office.

· Check the authenticity of documents of clients to minimize the risk.

· Managed effectively and efficiently disbursement process.

· Hold periodic meetings with clients and dealers.

· Manage branch operations efficiently under budgeted expenditures.

· Controlled Receivables and Payables effectively.

· Generated business portfolio of Rs.350 million with 96% overdue position.

ORIX Leasing Pakistan Limited Hyd.(from April 2001 to August 2002)

As an "Officer Credit & Marketing".

· Marketed the Consumer and Corporate lease products.

· Scrutinized client's documents.

· Prepared credit analyses reports and given recommendations for approvals.

· Updated client's profile.

· Hold periodical meetings clients and dealers.

· Prepared monthly reports for rentals.

· Forecasted quarterly revenues.

· Generated business of Rs. 88 million.

Pay Phone Pvt. Company. Hyd. (from Oct 1999 to March 2001)

As an "Accounts Officer".

· Maintained the books of accounts.

· Maintained the petty cash.

· Managed Accounts payables and Receivables.

· Prepared Bank reconciliation statements monthly.

ISRA University Hyd. (from 1996 to 1997).

As an "Accounts Officer".

· Maintained the petty cash.

· Writing of Cheques.

· Prepared Bank Reconciliation statement.

· Prepared CAPEX budget.

United Refrigeration Industries Pvt. Ltd.(from 1995 to 1996)

As an "Excise Officer".

· Maintained all excise books.

· Prepared daily sheets of excise.

· Kept the record of daily production.

· Surprised visits to production sites.

Educational Experience

Academic Qualification

ORASOFT Training Institute Hyd (from Jan 2002 to May 2002)

"Member of Visiting Faculty"

Subjects included:

· Business Communication

· Financial Accounting

QUALIFICATION YEAR FROM STATUS

· MBA(finance) 2000 Preston University Hyd. GPA 3.00/4.00

· B.Com 1995/96 Sind University. 2nd Division

· I.Com 1992 B.I.S.E. (Hyderabad) "B" Grade(II)

· Matric 1990 B.I.S.E.(Hyderabad) "A" Grade

Short Courses
I did the following short courses during the study

· Business Communication

· Training of Trainers

· Effective time management.

Computer Literacy
I am well versed with the following:

· MS-Word

· MS-Excel

· MS-Power Point

· Internet

Achievement
Second 2nd Position in I.Com in Hyderabad Board of Intermediate & Secondary Education in the year of 1992.

Personal
Father's Name

Date of Birth

Marital Status

Nationality

CNIC #

Domicile

Language Skills
I am well versed with English, Urdu and Sindhi speaking and writing.

Other Activities
I like to play indoor games, internet surfing and reading of religious books.

References
Can be furnished on request.
Download the files
Click on the following link to download our resulting file here:
You can also download our original template #1003 by visiting this page: click here.